Dear Husky Families,
We had a big "first" this past week: the SAT School Day. The College Board decided to allow schools to host the SAT on a school day this year, and we had 75 juniors take advantage of the opportunity. We are proud of the test-takers for their hard work on this important college application milestone, as well as our 12th graders who took a second practice full-length AP test. We are also grateful to families who donated food so that students could be well-fed and focused, as well as to our 9th and 10th graders who adjusted schedules and respected the testing environment. Now we head into our final week of March and a countdown to the 10 final weeks of school for this year! Attendance and academic perseverance will be so important as we head into the final quarter, so please continue the conversations at home about your student's progress towards the next grade, decisions about Office Hours, plans for their Personalized Learning Time at school, and work to be done at home in preparation for classes and mastering content.
In this edition of the Husky Bytes your will find:
– Photos from our Friday All School Meeting!
– Events This Week and Beyond
– This Week's School Schedule, incl. Spring Emergency Drill
– Parent Feedback Survey
– Parent Ed Night: College Case Studies
– Summit Prep Blood Drive in May
And stay tuned for a special Auction Bulletin coming later this evening!
Best,
Caitlin & Cady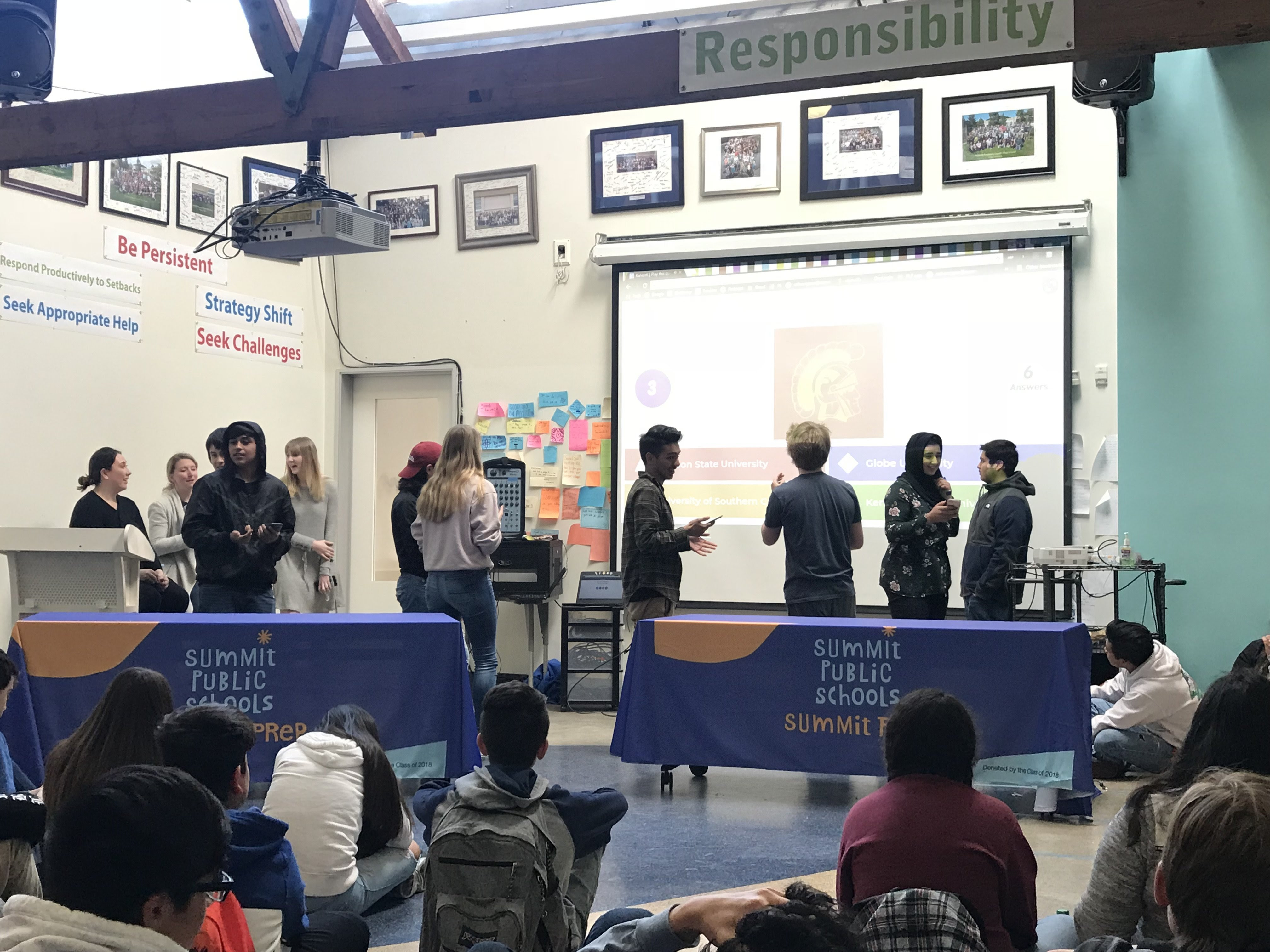 At our college-themed ASM (All School Meeting), students competed in a Kahoot to test their college trivia knowledge! Seniors won! Thanks to Pedro & Luis (9th), Chris & Tori (10th), Moises & Michael (11th), Mia & Blas (12th) for representing.
Then the Class of 2018 and their families, represented here by Corrie P, presented their senior gift to the admin team: 2 brand new tablecloths for our use at school and recruiting events!
And finally, students Cynthia and Jessica E led a very special announcement about the newest future Husky and determined the gender of Ms. Ching's baby…if you can't see the confetti: it's a boy!
Events This Week and Beyond
– Mon. 3/26, 6:30-7:30 pm, Grad Committee Meeting
– Tues. 3/27, 4 pm, Boys Baseball vs. D-Tech @ Pac Shores – come cheer!!
– Wed. 3/21, Benchmark Date for Spring Sports and Work Permits
– Fri. 3/30, Cesar Chavez Day means No School for Students
– Thurs 4/5, College Case Studies Night from 6:30-8 pm
This Week's School Schedule
With the short week, we will have a slightly modified schedule so that students get to see every Project Time course twice. We have had a lot of adjustments lately for short weeks and testing, so we appreciate how flexible students have been with these alterations. The two blocks in bold shifted from Friday into the Flex blocks.
We will also be practicing our Spring Safety Drill this week. Just like in the Fall, teachers will review our safety procedures, and then we will progress through a sequence of earthquake, active shooter and fire drills. Teachers reviewed protocols this past Thursday and have prepared for the drill so that we can smoothly and safely practice.
[Reminder] Parent Feedback Survey
In order to continue working to make Prep the best possible school for our students and families, we are seeking your feedback through our yearly Summit Parent Survey. This survey offers us a chance to hear your feedback and make changes to better serve our community. Please take our 2017-2018 Parent Survey today! Our Summit Prep team believes in listening to your voice to better understand what is working for you and your child and where you feel there might be room for improvement. We've made changes to the survey based on your feedback from years past. This year's survey is shorter and efforts were made to create a Parent Survey Advisory Team which included parents on the front end in helping us develop this year's survey and the rollout process. Your voice is incredibly important to our school, and we truly value your input and time. Thanks to everyone who has already taken the survey!
Parent Ed Night: College Case Studies
Thursday, April 5th, 6:30-8:00pm at Summit Prep
College Case Studies Night is a unique opportunity for all families to engage in the college admissions review process by acting as an admissions committee and examining mock applications. Admissions officers from out-of-state public and private universities will facilitate the experience to help families better understand the college admissions process. The exercise will point out the intricacies of the process and the importance of assembling a strong application. Families will gain insight and understanding as to what is valued in the application. We are excited for an authentic college learning experience!
This is an excellent opportunity for our 9th-11th grade families to get a preview and an inside look at the admissions process. Please join us!
Summit Prep Blood Drive – Fri., May 4
Summit students are hosting a Blood Drive in coordination with the Red Cross! The blood drive will be held from 8:30am to 2:30pm on Friday May 4, 2018. You MUST be at least 16 years of age to donate blood with a parent signature on a permission slip we are in the process of creating. Please sign up if you are interested in donating blood. Thank you!
-If you are 16 or 17, you will need to pick up a donor form from Ms. Mac at the front desk AND a parent/guardian MUST consent
-If you are 18 or older, you do need a form but do not need parental consent

Mensaje de las Directoras
Estimadas familias de Prep,
Tuvimos una gran "primera" la semana pasada: el SAT School Day. El College Board decidió permitir que las escuelas reciban el SAT en un día escolar este año, y tuvimos 75 juniors aprovechando la oportunidad. Estamos orgullosos de los examinandos por su ardua labor en este importante hito en la aplicación de la universidad, así como también por nuestros alumnos de 12º grado que tomaron una segunda prueba de práctica completa de AP. También estamos agradecidos a las familias que donaron alimentos para que los estudiantes puedan estar bien alimentados y enfocados, así como a nuestros alumnos de 9° y 10° grado que ajustaron los horarios y respetaron el entorno de evaluación. ¡Ahora nos dirigimos a nuestra última semana de marzo y una cuenta atrás para las 10 últimas semanas de clases de este año! La asistencia y la perseverancia académica serán tan importantes a medida que nos acercamos al último trimestre, así que por favor continúen las conversaciones en casa sobre el progreso de su hijo hacia el próximo grado, las decisiones sobre el horario de atención, los planes para su tiempo de aprendizaje personalizado en la escuela y el trabajo hecho en casa en preparación para clases y dominio del contenido en la escuela. No ofrecemos la escuela de verano, por lo que es muy importante que cada estudiante esté trabajando para estar 100% en camino el último día de clases.
En esta edición de Husky Bytes encontrarás:
– ¡Fotos de nuestra reunión de todos estudiantes del viernes!
– El horario escolar de esta semana
– Eventos esta semana y adelante
– Encuesta de comentarios de padres
– Noche de educación para padres: estudios de casos universitarios
– Donación de sangre en mayo
¡Y estén atentos para un boletín de la subasta especial que vendrá más tarde esta noche!
Mejor,
Caitlin y Cady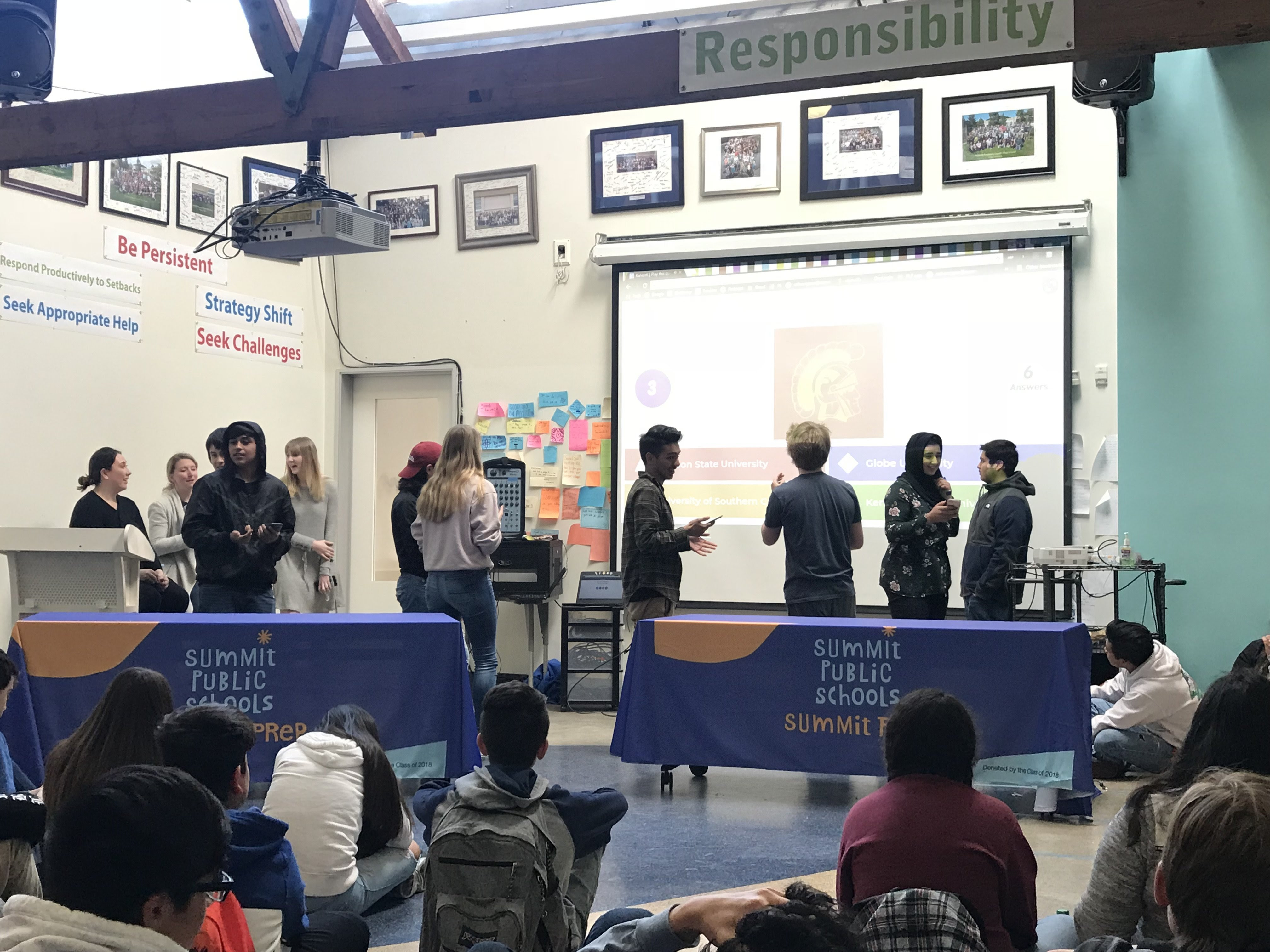 En nuestra ASM con temas de la universidad, los estudiantes compitieron en un Kahoot para poner a prueba su conocimiento de la universidad. ¡Los del grado 12 ganaron! Gracias a Pedro y Luis (9°), Chris y Tori (10°), Moises y Michael (11°), Mia y Blas (12°) por representar sus grados.
Luego, la Clase de 2018 y sus familias, representadas aquí por Corrie P, presentaron su obsequio senior al equipo de administración: ¡2 manteles nuevos para nuestro uso en la escuela y eventos de reclutamiento!
Y finalmente, las estudiantes Cynthia y Jessica E hicieron un anuncio muy especial sobre el futuro Husky y determinaron el sexo del bebé de la Sra. Ching … si no puedes ver el confeti: ¡es un niño!
Eventos esta semana y más allá
– Lun. 3/26, 6: 30-7: 30 p.m., Reunión del Comité de Graduación
– Mar. 3/27, 4 pm, Boys Beisbol vs. D-Tech @ Pac Shores: ¡vengan!
– Mier. 3/21, fecha de chequear los grados para los deportes de primavera y permisos de trabajo
– Vie 3/30 – Día de César Chávez – No hay escuela para estudiantes
– Jueves 4/5 – Noche de educación para familias – la admisión a la universidad
El horario escolar de esta semana
Con la semana corta, tendremos un horario ligeramente modificado para que los estudiantes vean cada curso de Tiempo del Proyecto dos veces. Hemos tenido muchos ajustes últimamente durante semanas cortas y exámenes, así que apreciamos lo flexibles que han sido los estudiantes con estas alteraciones.
También practicaremos nuestro simulacro de seguridad de primavera esta semana. Al igual que en el otoño, los maestros revisarán nuestros procedimientos de seguridad, y luego progresaremos a través de una secuencia de simulacros de terremoto, tirador activo y fuego. Los maestros revisaron los protocolos el jueves pasado y se han preparado para el simulacro para que podamos practicar de forma fluida y segura.
[Recordatorio] Encuesta de comentarios de los padres
Trabajando para que Prep sea la mejor escuela posible para nuestros estudiantes y familias, estamos buscando su opinión a través de nuestra Encuesta anual para padres de Summit. Esta encuesta nos ofrece la oportunidad de escuchar sus comentarios y hacer cambios para servir mejor a nuestra comunidad. ¡Por favor, tome nuestra Encuesta para padres 2017-2018 hoy! Puedes cambiar el lenguaje a español en la primera página. Nuestro equipo de Summit Prep cree en escuchar su voz para comprender mejor qué es lo que funciona para usted y su hijo, y dónde cree que podría mejorar. Hemos realizado cambios en la encuesta en función de sus comentarios de años anteriores. La encuesta de este año es más corta y se hicieron esfuerzos para crear un Equipo Asesor de Encuestas para Padres que incluyó a los padres en el frente para ayudarnos a desarrollar la encuesta de este año y el proceso de implementación. Su voz es increíblemente importante para nuestra escuela, y realmente valoramos su aporte y tiempo. ¡Gracias a quienes ya lo completaron!
Noche de Educación para Familias : La solicitud a la universidad
Jueves, 5 de Abril , 6:30-8:00pm en Summit Prep
Esta noche de educación para familias es una oportunidad única para todas las familias a participar en el proceso de examen la admisión universitaria, actuando como un comité de admisión y examinando las solicitudes simuladas. Oficiales de admisión de universidades fuera del estado públicas y privadas facilitarán la experiencia para ayudar a las familias a entender mejor el proceso de admisión a la universidad. El ejercicio se señalan las complejidades del proceso y la importancia de reunir una aplicación fuerte. Las familias podrán apreciar y entender en cuanto a lo que se valora en la aplicación. ¡Estamos muy contentos para una auténtica experiencia de aprendizaje de la universidad!
Esta es una excelente oportunidad para que nuestras familias de grados 9 al 11 para obtener una vista previa y una mirada al interior del proceso de admisión. Por favor, ¡únase a nosotros!
Donación de sangre en Summit Prep – Viernes, 4 de mayo
¡Los estudiantes de Summit están organizando un Blood Drive en coordinación con la Cruz Roja! La campaña de donación de sangre se realizará de 8:30 a.m. a 2:30 p.m. el viernes 4 de mayo de 2018. DEBE tener al menos 16 años de edad para donar sangre con la firma de un padre en una hoja de permiso que estamos en proceso de crear. Por favor regístrate si estás interesado en donar sangre. ¡Gracias!
-Si tiene 16 o 17 años, deberá recoger un formulario de donante de la Sra. Mac en la recepción Y un padre / tutor DEBE dar su consentimiento
-Si tiene 18 años o más, no necesita el consentimiento de los padres