Message from the Directors
Dear Husky Families,
We have a big week ahead of us with multiple college-related events that connect us to our mission: to prepare a diverse student population for success in a four-year college or university, and to be thoughtful, contributing members of society.  We see this college-going culture shine through as seniors have begun to excitedly hit "submit" on initial college applications, and it's a moment that we are working hard to prepare our underclassmen for.  Please talk to your children about the college events this week related to the PSAT, AP test commitments and Financial Aid to join us as partners in meeting our mission!
In this edition of Husky Bytes you will find updates and repeat remidners related to:
Student Showcase Awards – NEW!   

October Parent Workshops  – Tues, Oct 10

PSAT – Wed, Oct 11

SAVE THE DATE: Graduation and Auction

This Week in Sports

Winter Sports Registration

Family Carpool Directory
Thank you,
Caitlin & Cady
Student Showcase
Each year, we take multiple opportunities throughout the year to recognize students who are demonstrating excellence in their courses through the demonstration of our core characteristics of Courage, Compassion, Curiosity, Responsibility, Respect and Integrity. We met in grade level assemblies a week ago Friday to recognize the following students:
9th Grade: English – Amelie Calderon, Biology – John Bandet, Math I – Miranda Ochoa, World History I – Luis Rojas Celis
10th Grade: English – Grace Bartz, Physics – Evelin Reyes Barbosa, Math II – Monica Loya, World History II – Nicholas Reed
11th Grade: AP Lang – Tor Soderstrom, Chemistry – Luis Lemus, Math III – Liam Barry, APUSH – Marlene Vasquez
12th Grade: AP Lit – Jennifer Gomez, APES – Brendan Green, AP Calc – Angela Chung, AP Stats – Ben Thomas, AP Gov – Kristian Bekele
Please join us in congratulating them! Here are a few photos from the assemblies: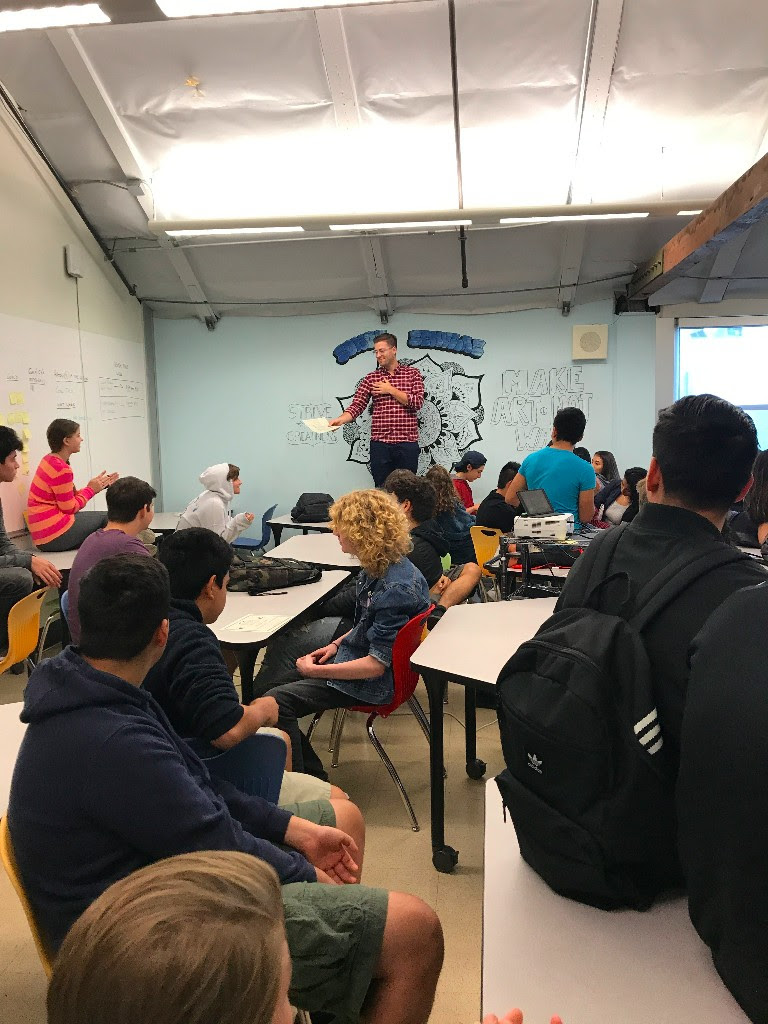 ATTENTION ALL SENIOR PARENTS:
On Tuesday we will be holding our annual CASH FOR COLLEGE Night from 7:00PM-8:30PM at Summit Prep. The purpose of this evening will be for all Seniors to start and complete their FAFSA/DREAM applications in order for them to receive the best financial aid package from the college they choose to attend. Financial aid experts will be on site to help families complete the FAFSA or DREAM applications or to answer questions regarding financial aid. Be sure to bring these items when you attend, including a computer to complete the FAFSA financial aid form. This event is required of all Seniors and their families. Can't wait to see you!
ATTENTION ALL PARENTS:
If your student is taking an AP exam at the end of this year, please come to the AP Parent Workshop hosted by AP teachers. The AP Parent workshop happens directly before Cash for College Night from 6-7PM on Wednesday.
PSAT Testing
On Wednesday, 9th through 11th grade students will take the PSAT. This is especially important for 11th graders who can earn National Merit recognition and scholarship through their performance.
All students taking the PSAT should bring a calculator for use on the math portions of the exam. We will have one #2 pencil for each student and recommend the student brings a back-up
SAVE THE DATE
We have two important and exciting additions to the calendar to announce:
Summit Prep Auction – we will hold this annual community fundraising event on Saturday, April 28. Please mark your calendar now and look out for more information to come from Auction Committee Chairs Lynn Marrs and Julie Pierce! This event is a key part of hitting our annual $75,000 fundraising goal which supports our overall school budget.
Graduation – our seniors will walk across the stage at 3 pm on Friday, June 8 at Carrington Hall on the Sequoia HS campus! Please look out for more information to come from Graduation Committee Chairs Corrie Peñafort and Jina Tina. Our next graduation committee meeting will be on 10/17 at 6:30 pm. All are welcome!
This Week in Sports
Tuesday, Oct 10 – Cross Country Meet at 4:30 at Crystal Springs
Tuesday, Oct 10 – Volleyball at Alma Christian in Pacifica – 5:15 for JV and 6:30 for Varsity
Thursday, Oct 12 – JV Volleyball plays at Mid-Peninsula at 4 pm
WINTER SPORTS
Winter sports registrations opened on Wednesday, October 4, 2017 with an email sent to all students with instructions and a registration link.  Students wishing to tryout for our basketball or soccer team MUST complete this registration as well as the medical/sports packet in order to be eligible.  All athletes MUST also be in good academic standing in order to participate.
Winter sports open for tryouts/practices on Monday, October 30, 2017.  More information with the exact start date will be sent to all that register around October 20.  Please email our Athletic Director, Michael Lofberg at mlofberg@summitps.org if you have any questions.
Family Directory – Carpooling
We've had a number of families ask about carpooling and a family directory. While we cannot directly publish all families' names and addresses, we had the idea that families could choose to share their information with the rest of the group for the purpose of creating a directory that families seeking a carpool could use to directly reach out.  If you are willing to share your information and have a fellow parent who lives nearby contact you about carpooling, please share your information here: http://tinyurl.com/prepcarpool  This survey asks for your name, address and contact info.  We would plan to give access to the results of the survey – aka this directory of family addresses – to all who complete it.  We will not share your information with others outside of that.
Mensaje de Las Directoras
Estimadas Familias Husky,
Tenemos una gran semana por delante de nosotros con múltiples eventos relacionados con la universidad que nos conectan a nuestra misión: preparar a una población estudiantil diversa para el éxito en un colegio o universidad de cuatro años, y ser  miembros contribuyentes de la sociedad. Vemos que esta cultura de la universidad va a brillar a medida que las personas mayores han comenzado a emocionarse escoger "terminado" en las solicitudes de la universidad inicial, y es un momento que estamos trabajando duro para preparar todos nuestros estudiantes. Por favor hable con sus hijos sobre los eventos de la universidad relacionados con PSAT, compromisos de examenes de AP y Ayuda Financiera para unirse a nosotros como socios en el cumplimiento de nuestra misión!
En esta edición de Husky Bytes encontrarás actualizaciones relacionadas con:
Premios de Estudiantes
Talleres de Padres de Octubre – Oct 10
PSAT – Oct 11
AHORRE LA FECHA: Graduación y La Subasta
Los Deportes de Esta Semana
Registro de deportes de invierno
Directorio de Manejar Juntos a Escuela
Gracias,
Caitlin & Cady
Los Premios Para Estudiantes
Cada año, tomamos múltiples oportunidades a lo largo del año para reconocer a los estudiantes que están demostrando excelencia en sus cursos a través de la demostración de nuestras características básicas de Coraje, Compasión, Curiosidad, Responsabilidad, Respeto e Integridad. Nos reunimos en las asambleas de nivel de grado hace una semana el viernes para reconocer a los siguientes estudiantes:
9º Grado: Inglés – Amelie Calderón, Biología – John Bandet, Matemáticas I – Miranda Ochoa, Historia Mundial I – Luis Rojas Celis
10mo Grado: Inglés – Grace Bartz, Física – Evelin Reyes Barbosa, Matemáticas II – Monica Loya, Historia Mundial II – Nicholas Reed
11º Grado: AP Lang – Tor Soderstrom, Química – Luis Lemus, Matemáticas III – Liam Barry, APUSH – Marlene Vasquez
12º Grado: AP Lit – Jennifer Gómez, APES – Brendan Green, AP Calc – Angela Chung, AP Estadísticas – Ben Thomas, AP Gov – Kristian Bekele
Talleres de Padres en Octubre
ATENCIÓN A TODOS LOS PADRES De los SENIORS:
El 10 de octubre vamos a tener nuestra CASH FOR COLLEGE Night anual de 7:00 PM-8: 30PM en el campus de Summit Prep. El propósito de esta noche será que todas las personas de la tercera edad comience y complete sus solicitudes FAFSA / DREAM para que reciban el mejor paquete de ayuda financiera de la universidad a la que eligen asistir. Los expertos en ayuda financiera estarán en el sitio para ayudar a las familias a completar las solicitudes FAFSA o DREAM o para contestar preguntas relacionadas con la ayuda financiera. Asegúrese de traer estos artículos cuando asista, incluyendo una computadora para completar el formulario de ayuda financiera FAFSA. Este evento es requerido de todos los Mayores y sus familias. No puedo esperar a verte!
ATENCIÓN A TODOS LOS PADRES:
Si su estudiante está tomando un examen de AP al final de este año, por favor venga al Taller de Padres de AP organizado por maestros de AP. El taller de padres de AP ocurre directamente antes del Efectivo para Noche Universitaria de 6-7 pm el Miércoles 10 de Octubre.
El Examen PSAT
El miércoles, los estudiantes en el 9 al 11 can a tomar el PSAT. Esto es especialmente importante para los alumnos de 11º grado que pueden obtener el reconocimiento y la beca del Mérito Nacional a través de su desempeño.
Todos los estudiantes que toman el PSAT deben traer una calculadora para usar en las porciones de matemáticas del examen.  Vamos a tener un lápiz para cada alumno.
GUARDA LA FECHA
Tenemos dos importantes y emocionantes adiciones al calendario para anunciar:
La Subasta de Summit Prep – realizaremos este evento anual de recaudación de fondos para la comunidad el sábado 28 de abril. Favor de marcar su calendario ahora y busque más información para venir de Lynn Marrs y Julie Pierce, presidentes del Comité de Subastas. Este evento es una parte clave para alcanzar nuestro objetivo anual de recaudación de fondos de $ 75,000 que apoya nuestro presupuesto escolar en general.
La Graduación – nuestros mayores recorrerán el escenario a las 3 pm el viernes, 8 de junio en Carrington Hall en el campus Sequoia HS! Por favor, busque más información para venir de las Cátedras del Comité de Graduación Corrie Peñafort y Jina Tina. Nuestra próxima reunión del comité de graduación será el 10/17 a las 6:30 pm. ¡Todos son bienvenidos!
Los Deportes Esta Semana
martes, el 10 de octubre – Cross Country a las 4:30 en Crystal Springs
martes, el 10 de octubre – Volleyball contra Alma Christian ie Pacifica – 5:15 para JV y 6:30 para Varsity
jueves, el 12 de octubre – JV Volleyball juega contra Mid-Peninsula a las 4 por la tarde
DEPORTES DE INVIERNO
Las inscripciones para los deportes de invierno se abrió el miércoles 4 de octubre de 2017. Se enviará un correo electrónico a todos los estudiantes con instrucciones y un enlace de registro. Los estudiantes que deseen probar para nuestro equipo de baloncesto o fútbol deben completar este registro, así como el paquete médico / deportivo para poder ser elegibles. Todos los atletas DEBEN estar en buena posición académica para participar.
Los deportes de invierno se abren para pruebas / prácticas el lunes 30 de octubre de 2017. Más información con la fecha exacta de inicio se enviará a todos los que se registren alrededor del 20 de octubre. Por favor, envíe un correo electrónico a Michael Lofberg, mlofberg@summitps.org si tiene alguna pregunta.
Directorio de Familia – Carpooling
Hemos tenido un número de familias preguntan sobre carpooling y un directorio de la familia. Aunque no podemos publicar directamente los nombres y direcciones de todas las familias, tuvimos la idea de que las familias pudieran compartir su información con el resto del grupo con el propósito de crear un directorio que las familias que buscan un carpool pudieran utilizar para llegar directamente. Si está dispuesto a compartir su información y tiene un padre compañero que vive cerca de contactar con usted acerca de compartir, por favor comparta su información aquí: http://tinyurl.com/prepcarpool Esta encuesta pide su nombre, dirección e información de contacto. Nos gustaría dar acceso a los resultados de la encuesta a todos los que lo completen. No compartiremos su información con otras personas fuera de ella.